We all want the fountain of youth right! As the legend goes, the Fountain of Youth is a spring that supposedly restores the youth of anyone who drinks or bathes in its waters. Tales of such a fountain have been recounted across the world for thousands of years, first appearing in writings by Herodotus (500BC). Through medical breakthroughs and collective knowledge mankind can generally live longer these days with a better quality of life.
Plastic surgeons main business now is mostly that of trying to repair those tragic mistakes.
Let Eve make you look younger naturally
That's where the secret formula of the amazing natural ingredients in the Eve Rejuvenation Bar (Eve Bar) makes looking younger naturally a reality, it just takes 2 minutes of your time each day.
Ant-aging and acquiring that personal 'fountain of youth' is yours whenever and wherever you are today.
Eve Skincare is the evolution of 1000's of years of natural skin care discoveries & development. Beginning in the ancient moors at the foot of the Austrian Alps, through the Moroccan countryside, across the oceans to pristine New Zealand and untouched remote forests of Western Australia. We combine those discoveries & developments with very carefully selected high grade pure natural therapeutic ingredients, assembling them together in our secret formula in the strict controlled environment on Sydney Australia's Northern Beaches.
"Would you love a natural healthy, radiant and newly invigorated complexion EVERY DAY?"
The founders of Eve have brought you their 40 years of teachings & experience from Europe's finest therapy clinics, and from living in the harshest diverse climate conditions in Australia. With a combined 100 years experience the founders & their innovative yet tried formulas, the finest unmatched natural skin care is now literally at hand.
--------------------------------------------------------------------------------------------------------------------------------
OMG! IT'S REALLY WORKS - BEST FACE (AND BODY) MOISTURISING AND NOURISHING CLEANSER, MASK AND A REAL ACNE FIXER.
OMG! It's really works - Best Face (and body) moisturising and nourishing cleanser, mask and a real acne fixer.
I Started using it as a cleanser and a mask last April, my skin now looks better then ever.
I spend many years searching for the product that will make the change for me - I have oily skin with scars and acne.
I spend more money then i can count on the best product with no visible change, some even make my skin worse.
Have sensitive skin, acne issue, if something is not working I throw it away immediately, but now that I found Eve Bar I can finally stop searching.
My skin look better then ever, no acne and the scars started to fed.
Can't help my self from being happy finally. EVE Skin Bar changed my life!
Thank you!
Karin - Israel
---------------------------------------------------------------------------------------------------------------------------------
Our philosophy is simple, our mission is now: To make the very best natural ttherapeutic skin care products known to mankind and make them available to all mankind.
That's where Eve Skincare comes in. Eve's active organic compounds respond to your skin's deficiencies by;
Signaling to your body to expel the wastes and impurities it wants to be rid of, while retaining the essential oils and nutrients needed to maintain a healthy moisture balance
Supplying your skin with the nutrients and support it's lacking to achieve optimum repair, balance, and health
Allowing your skin to take what it needs from the mix and ignore the redundant compounds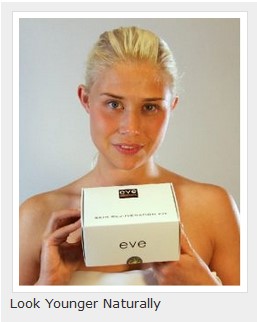 You can't always blame genetics for the imbalances and imperfections in our skin. Stress, environment, modern diet and many other factors all take their toll. Our body, however, responds to these deficiencies by establishing alternative pathways (such as overstimulating the oil glands) to keep us functioning as well as possible under less than perfect circumstances.
No wonder these ingredients are often referred to as 'intelligent nutrients'. And their restorative effects continue working for 24 hours after treatment. It's easy to see why Eve is simply one of the very best natural skin care products on the market today.
David & Paul
Co-Founders